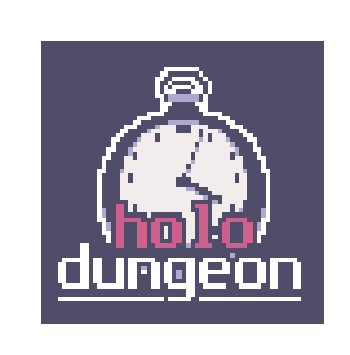 Holo Dungeon
Hi, it's been a while. This update brings the new outfits the girls got last month to the game (you still need to unlock them), and a new section based on Kevin Stevens game "Smol Ame".
New "DRIP" sprites for the party members, that appear both in the overworld and while in combat;
5 new enemies;
1 new optional boss;
1 new section - "Other dimension" (based on Smol Ame);
1 new tiny follower;
The game now can be played using a controller;
New setting called "True Size", I hope I don't get bonked too hard for this;
Absolutely no jumpscares were added;
Certain map layouts were slightly tweaked;
Some dialogues were slightly changed;
Audio bug where the BGM sometimes stopped playing or played the wrong track entirely is (hopefully) fixed;
"Coexist" cannot be used twice in battle;
With this version finally done, I want to move on and let the game stay like this. Not in terms of bugfixes, I'll still try my best to fix the scuffed bugs I end up finding. In terms of content, I'm quite happy with how it turned out. In the process of trying to make a game, I ended up making a big shitpost, and I love it.
So yeah, I'll move on to other projects with the knowledge I gained from this one.
Files
holodungeon-windows-1.3.zip
158 MB
Jun 01, 2021
holodungeon-linux-1.3.zip
165 MB
Jun 01, 2021
holodungeon-mac-1.3.zip
160 MB
Jun 01, 2021