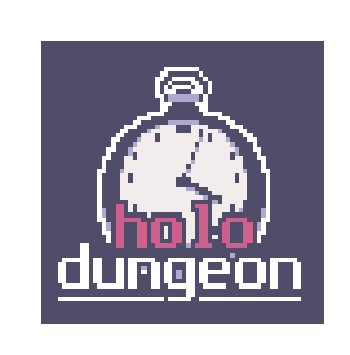 Holo Dungeon
version 1.2 - "am dog" update
---
Hi! This update brings with it almost no new content to the table (yay!), besides a bunch of bug fixes and balancing tweaks. But hey, Takanashi Kiara, the enemy designer, came up with a sick new enemy, so I had to implement it.
Tab no longer quickly loads last save;
Battle encounters rate was reduced;
West Forest now shows a tutorial about running;
Absolutely no new hidden messages;
New enemy on route 4 - am dog (no dogs are harmed in a playthrough of this game, "am toast" simply means they're eating some delicious slice of bread!);
Enemy damage was slightly buffed;
Ina got an overall buff to her health and PHY stat (bonk);
Clicking multiple times on a dialogue text that triggers a combat encounter no longer causes the transition to freak out;
Changing between route 4444 and the Castle rapidly no longer de-spawns party members;
A clone of Ina no longer floats in the void outside her cottage (well, she still does, but now it's offscreen);
A bug where after getting Kiara on the team, the player was unable to move is (hopefully) fixed;
"Salt mines" passive was nerfed.
"Bottom left" passive was nerfed.
The end of the credits now takes less time, and the game now returns to the main menu instead of closing.
Now that this version is somewhat stable (fingers crossed), I can focus on adding some new content to the game. I have no plans to add anything to the endings, but I want to add some fun stuff to the middle of the game, before the cottage scene, where I think the game is at its weakest.
I'm also aware that the replayability value of the game is quite low, so I want to make this new content accessible to players that already completed the game by simply loading the last save point.
Files
holodungeon-windows-1.2.zip
124 MB
May 06, 2021
holodungeon-mac-1.2.zip
127 MB
May 06, 2021
holodungeon-linux-1.2.zip
132 MB
May 06, 2021